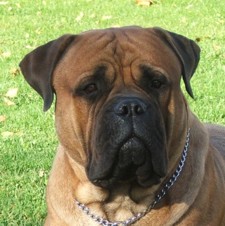 N CH NV-05 NV-06 Green Dragon Nick, «Nick»
Date

Show

Judge

Result

08.08.09

Norwegian Bullmastiff Speciality Jevnaker

Pascual Asensi Peinado

Excellent, CK, 2CHK, 2BHK (photos)

06.06.09

Swedish Bullmastiff Specialty Norberg

Andreas Kirchstein, Germany

Excellent, CK, 1.open class

23.08.08

Norwegian Bullmastiff Speciality, Jevnaker

Geraldine Shastid, USA

Excellent, CK

17.05.07

Champion Clubmatch BM Club Nederland

L. van Os (Holland)

Best Champion

2006: Most winning Bullmastiff in Norway!

11.11.06

Kongsberg hundeklubb

Miodrag Vretenicic

BOB

27.08.06

KSS Show Hauger

Antoni Di Lorenzo (IT)

BOS

26.08.06

Norwegian Bullmastiff Speciality

Bas Bosch (NL)

1CHK, 2BHK, CK (photos and critic)

12.08.06

NKK International Norwegian Winner Show Oslo

Igor Selimovic (CRO)

CACIB, BOB, BOG (photos)

29.07.06

MOHK National Show Moss

Derek Smith (IRL)

BOB (photo) (critic under)

17.06.06

NKK International Show in Drammen

Benny Blid (Swe)

CACIB, BOB (photo)

04.06.06

Swedish Bullmastiff Specialty

William Warren (UK)

Res. male, CK

(critic under)

07.05.06

NKK International Show in Kristiansand

Martin Croeser (S-A)

CAC, CACIB, BOB - CHAMPION!

25.02.06

NKK International Show in Bø

Leni Nousiainen (Fin)

CAC, CACIB, 2.best male

2005: Most winning Bullmastiff male in Norway!

20.11.05

NKK International Norwegian Winner Show Hamar

Annika Ulltveit-Moe (Swe)

CAC, CACIB, BOB, NV-05, 3-BOG! (photo under)

13.11.05

KHK Kongsberg

Soile Bister (Fin)

CAC, BOB

30.10.05:

NRK Eidsvoll

Pedro Sanches Delerue

CAC, BOS

29.10.05:

NDK Eidsvoll

Javier Sanches Fernandes

CAC, BOS

7.09.05

KSS-show Hauger

Antoni Di Lorenzo

CAC, BOS. (photo)

24.07.05

International Västerås Sweden

Bas Bosch (NL)

CAC, CACIB, BOS. (photo under)

30.07.05

MOHK Moss

Michael Leonard

CAC, BOS

18.06.05

NBK's Bullmastiff Speciality Show

Julia Jones (UK)

CAC, 2 Best Male. (photos)

12.06.05

NKK International Show Drammen

Tore Fossum

CACIB, 2 Best Male
CRITICS:
29.07.06 by Derek Smith:
"Beautiful head, lovely muzzle and mouth, excellent outline, wonderful body and bone.
Excellent movement, liked him a lot."
17.06.06 by Benny Blid:
"Kraftfull välbalansert typisk väl... hovud, vackert uttrykk.
Bra överlinje, utmerket kropp og front. Bra benstamme. Normale vinkler, sunda rörelser. Välvisad."
04.06.06 by William Warren:
"Broad scull, broad muzzle, undershot, good underjaw, would prefer better wrinkling for better expression, slightly plain in head.
Deep chest, bone ok, good topline, hind angulation ok, moved well, slightly ... out in front on the move."
PHOTOS:
20.11.2005: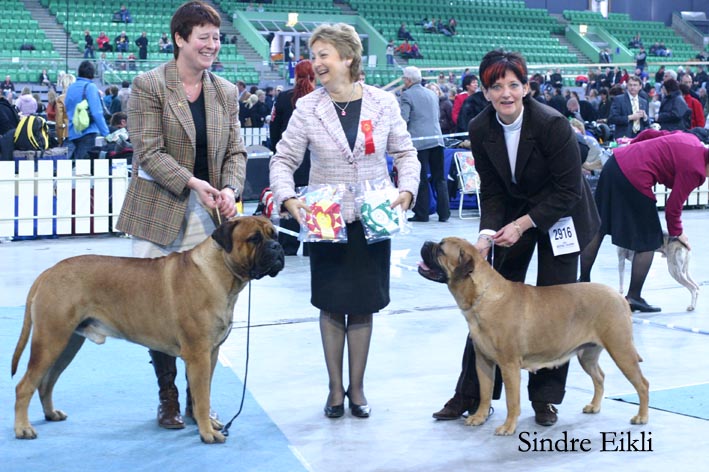 24.07.2005: